Welcome!

The Wethersfield United Methodist Church worship is lively, Spirit-filled and Christ-centered. We offer adult and youth church school, a full range of choirs for adults and youth which include chancel, praise and bells along with a variety of missions and ministries in which all ages can participate in.
If you would like any more information please call us at 860.529.2025 or email This email address is being protected from spambots. You need JavaScript enabled to view it..
HomeFront Pasta Dinner - Feb. 28
PASTA DINNER POSTPONED until Saturday, February 28
'Word'ly Women' Small Group Study - Jan 12 - Mar 16
Amrein Scholarship Fund Fruit Sale - Jan 11-18
Amrein Scholarship Fund

Fruit Sale

Taking orders in January 11 / 18

Pickup: Saturday, Jan. 31

The Amrein Scholarship Fund committee will be taking orders for navel oranges and pink grapefruit after both worship services on January 11th and January 18th in the FLC.

Pick up date for your fruit order is Saturday, January 31st in the FLC from 11:00 a.m. to 1 p.m.

Thank you for your support.
"Soup'er Bowl" Sunday Mission Luncheon -- Feb. 1
"Soup'er Bowl" Sunday Mission Luncheon

Feb. 1 after second service
Once again, we will be sharing our favorite soups on "Soup'er Bowl" Sunday on February 1st right

after the second service. This is a fun time of fellowship and good food! A free-

will offering for the luncheon helps to replenish our

Mission Fund.

Sign

up at the Communication Board in the hallway to let us know

that you are bringing a pot of soup. But, remember, that even if you cannot

bring a soup we want you to be sure to stay for lunch to support this mission

fundraiser and to enjoy the fellowship!
First Annual South Park Inn - Lincoln Little Memorial Bowling Tournament - Feb. 15
First Annual South Park Inn - Lincoln Little Memorial Bowling Tournament

Sunday, February 15th 12:15 p.m.

Calling all men . . . please join us for the First Annual South Park Inn Lincoln Little Memorial Bowling Tournament on Sunday, February 15th.

We will meet at the church 12:15 p.m. for pizza followed by bowling at Bowl-a-Rama in Newington. There is a sign up sheet on the Connections Board in the hallway. Any questions, please see Al Dowd.
Loaves and Fishes -- Feb. 20
LOAVES AND FISHES - February 20, 2015.

For over 15 years, our church has been serving the Loaves and Fishes Ministry in Hartford. Loaves and Fishes is a charitable organization that provides human services to the poor in Hartford. These services include education, food, clothing, counseling and economic development programs. This is an opportunity to help people that are less than 10 miles away from our church!

Please join us in handing out toiletries, winter hats, and clothing on Friday, February 20, 2015. We will be leaving the church at 10:45 a.m.

The clients you will meet are ever so kind and grateful for what we provide. If you can't come to hand out the items, you can support this ministry by donating toiletries and socks. The church been doing this for many years and the most popular items are men's and women's socks and razors/shaving cream. We also need bar soap, toothbrushes/toothpaste, shampoo, moisturizer, etc.

The winter hats are knitted by our own Creative Pastimes small group. Donations can be left in the church office anytime between now and February 20. If you are interested in a real face to face opportunity to minister to disadvantaged people, then join us that day and request everyone to donate some toiletries and/or socks to this worthwhile ministry.

Contact Sharon Richwine (This email address is being protected from spambots. You need JavaScript enabled to view it. or 860-563-2026) for more information.
Book Club -- Feb. 22
"Just Come Anyway"
Book Club
Feb. 22 6:00 p.m.

Here are the details of the next "Just Come Anyway" meeting. All women who love to read are invited to attend. We gather at various women's homes about once a month. We each bring a snack to share, have a lively discussion of the book of the month and enjoy fellowship and some laughs together!

Come every time, come once in a while, come if you have read the whole book, come even if you have not finished the book. "Just Come Anyway" ... it is fun and a great way to get to know others!

Sunday, Feb 22nd at 6:00 p.m.

Where: Jan Ironside's, 22 Hardin Lane, Glastonbury

WHAT: "The Waiting" ... By Cathy LaGrow
Website Assistants Needed
| | |
| --- | --- |
| Help Spread the News… | |
The Website Committee is looking for volunteers to share in updating and adding to our website on a weekly basis. Each week after the Connections Newsletter is published we need people willing to enter the new information into the Upcoming Events page of the website. Also if changes occur during the week to then update the pages and remove from the site any old or expired articles. This process takes between 1 – 3 hours a week, depending upon how many new articles there are in Connections. On average time spent is less than 3 hours per week.
We are seeking volunteers with good computer skills, knowledge of the MS Office Suite, access to a high speed DSL or Cable Modem (daytime use of the church computers is an option for this) and a desire to learn how to update pages on the website. A training class(or two) by the Website Staff members will be offered on the website software language called Joomla, which is basically a drag and drop language as far as weekly updates are concerned. The Website Staff will be available to assist you with any questions, problems, or technical issues.
If you are interested in spreading the news and you would like to hear more about this opportunity, please contact Rick Neafus or the Church Office at 860-529-2025 or by e-mail at This email address is being protected from spambots. You need JavaScript enabled to view it. Thank you.
Gift Card Program
WUMC Gift Card Program!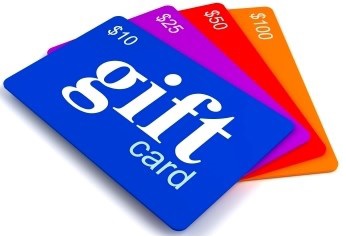 WE ARE CONTINUING OUR GIFT CARD PROGRAM!
You can purchase gift cards from our church . . . we have a large variety of vendors. The gift cards are purchased at face value (no extra cost to you). Each gift card gives our church a set percentage which will go towards the Mission Fund.
It's Easy: Just fill out the attached order form and return with your payment. (More order forms are available at our communication board.) The gift cards that we have in stock will be given out immediately and the others will be ordered the first Monday of the month and will be in the following week. So plan ahead!
It's Convenient: No need to run around to the stores to pick up gift cards. Just stop in the office during the week or see Deb Draizen or Evelyn Griswold at Coffee Hour on Sundays. Dunkin Donuts, Panera's, Starbucks, Amazon, Kohl's, Stop & Shop, to just name a few.
There are many more!
It's a Way to Give: Most of us buy gift cards on a regular basis. With this program, the proceeds come from the vendors with no extra cost to us. So buy your gift cards from us and at the same time support the many missions of our church.
Gift Cards for all occasions!
● Birthdays ● Anniversaries ● Holidays ● Graduations ● Thank You Gifts ● Teachers Gifts
Pick up an order form at our Community Communication Board in the hallway.